How to make a Lavender Madeleine
The Second Bagpuss annual contains a number of games and things to make. One of these is a Lavender Madeleine.
You will need a piece of striped cotton material about 35cms. square, a small piece of white cotton material or felt about 20cms. by 10cms., some scraps of white and blue felt, a piece of ribbon 14cm. long and some orange or brown rugwool or other thick wool. This is for the hair so short pieces will do. You will also need some dried lavender.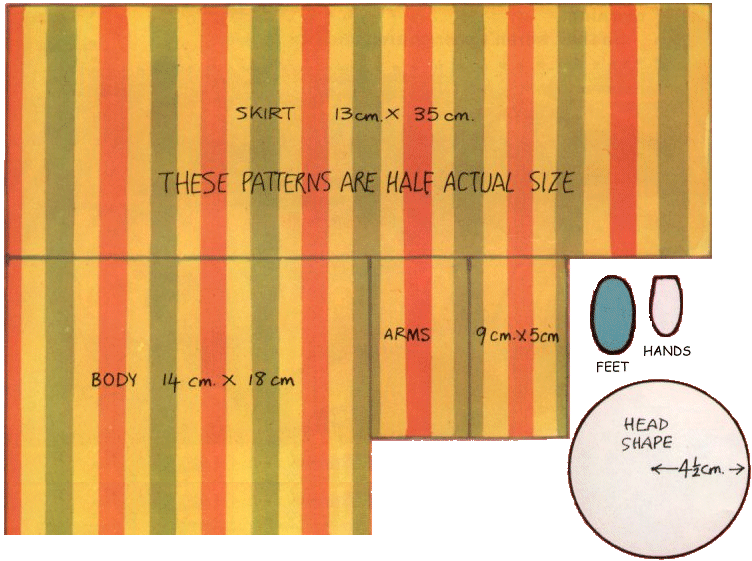 First enlarge the pattern onto paper. The pattern is half-size. Cut out the pattern and pin it to the correct material. Cut out the body, skirt and arms from the striped material as shown.

BODY: Fold the body piece to make a long tube inside out with the stripes running round it and sew up the side and bottom. Turn it right side out, put the lavender in the bottom and stuff to the top.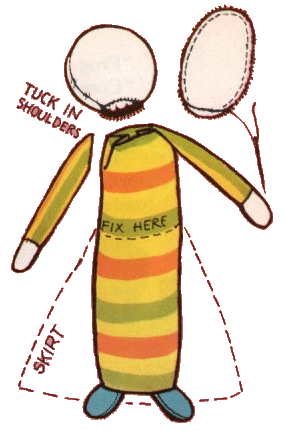 HEAD: Cut out two circles (radius 4½ cms.) from the white material, sew them together round the edge leaving a small gap, turn inside out, stuff and sew up the gap.
ARMS: Fold the armpieces inside out, sew along the long side and one end, turn right side out and stuff. Fold the other end in diagonally as shown and sew up. Now take the body, fold in the shoulders diagonally and sew on the arms. Sew on the head.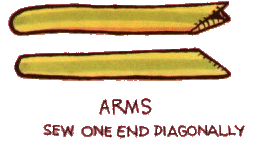 HANDS AND FEET: Cut four hand pieces and four foot pieces from felt. Oversew them together in pairs and stuff. Sew the hands to the ends of the arms and the feet to the end of the body.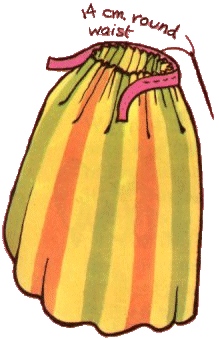 SKIRT: Take the skirt piece and hem the bottom. (The stripes run up and down.) Gather the top to measure 14cms. and sew on the ribbon. Fold inside out and sew up the side then turn right side out. Slide the skirt onto the body two thirds of the way up and sew in place.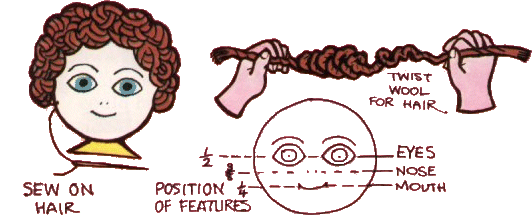 HAIR: Take pieces of the wool and twist so that they form tight curls. Sew these on to the head.
FACE: Finally embroider the features (or draw them with a fibre-tip pen) on to the face. It is best to draw them in lightly with a pencil first.
Your Lavender Madeleine is now ready to go into the drawer with your handkerchiefs to keep them smelling nice.