How to make a Bagpuss Pyjama case
The First Bagpuss annual contains a number of games and things to make. One of these is a Bagpuss pyjama case.
To make the pyjama case, you will need about 21 inches of 36-inch wide striped furry material (though you'll be lucky to get cream and pink stripes...), and a small scrap of plain. Alternatively, striped blanked would do. You will also need two half -inch glass eyes or buttons, and a half inch black button for the nose.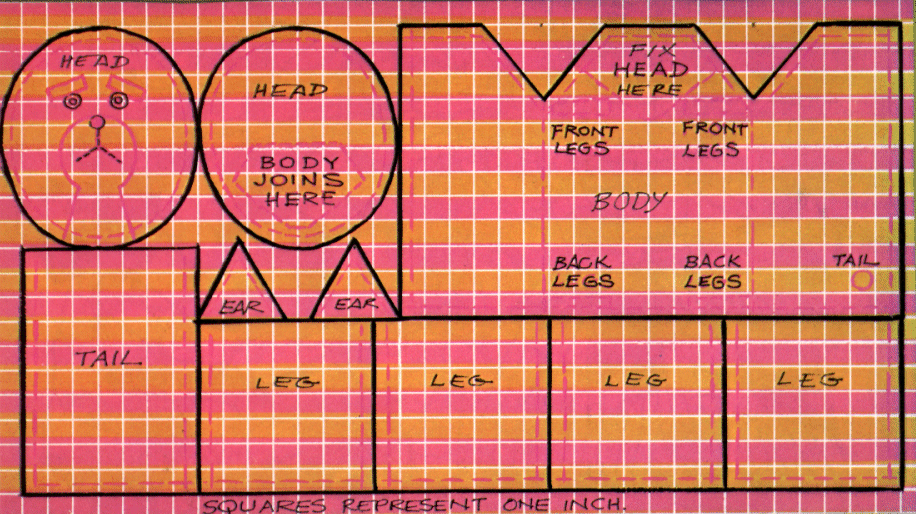 First make a pattern by enlarging the shapes in the pattern (above) on to one inch squared paper, or by measuring. Half-inch seams have been allowed.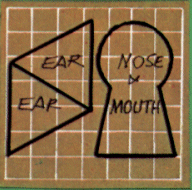 Do the same for the contrasting material.
Cut out the pattern and pin it to the cloth with the striped in the correct direction. Cut out the cloth.
BODY: Hem the two shorter sides. With the furry side up, fold the ends to the middle, folding on the point of the 'v', so that there is an overlap of 3 inches. Sew across the top and bottom and turn the furry side out.
LEGS AND TAIL: Fold in half, furry side in, and sew up side and one end. Turn furry side out and stuff. Oversew the ends and sew in place on the body. Stitch the toes in black wool.
HEAD: First sew the mouth piece on to the face and the nose button at the top of it. Stitch the mouth with black wool.
Fix the eyes securely, and sew eyebrows in place. These are made of strips of furry material to contrast with the colour over the eyes, and sewn on just touching the eyes.
With furry sides facing, sew back and front of the head together leaving an opening for stuffing. Turn furry side out, stuff, and oversew opening.
EARS: Put one plain and one striped piece of material furry side together for each ear, sew round two sides, turn furry side out and oversew third side. Sew in place on head.
Sew head in position as marked on the pattern slightly below shoulder line, and your own Bagpuss is ready to sit on your bed, looking after your pyjamas or nightdress (see below)